The News Agency
pressetext is one of the leading news agencies and press distribution networks in Europe. With more than 100,000 subscribers and tens of thousands of fans and followers in social networks, we are directly connected to decision makers that matter.
pressetext (and its international desk Newsfox) supplies journalists and opinion leaders with comprehensive daily updated news, pictures and videos. pressetext is a partner of the European News Distribution Network (NEDINE) and the Association of Private News Agencies (APNA).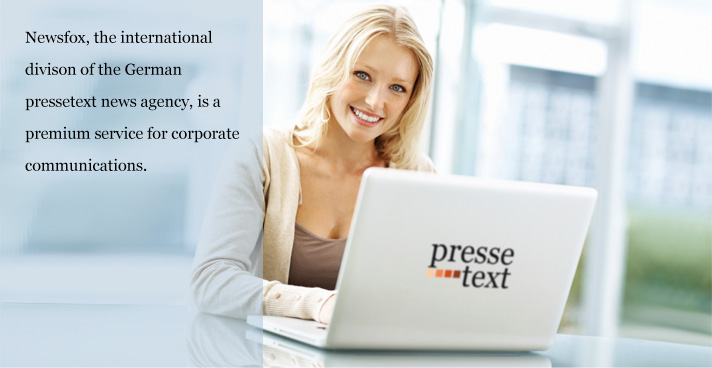 pressetext editors report on events and trends in topics like business, high-tech, media and science. Our editors analyze the latest research findings and developments to deliver the most up to date news and information to you. Photos, images and graphics are available in print quality and can be used for journalistic purposes, as well as multimedia content and video.

With the © pressetext and © newsfox platforms, we offer companies and institutions as well the financial and scientific elite of Europe, easy access to news and information. Press releases are distributed through a technologically advanced distribution system to the German-speaking markets and beyond, via local and international partners across Europe, America and Asia.
The Premium Service
Since 1997, pressetext – together with its international service newsfox - has provided a premium service for successful business communication. Premium means the highest quality content, customer oriented service through our 24-hour hotline and targeted coverage in press distribution. With newsfox you will reach those journalists and decision-makers that are essential for public relations in Germany and beyond.


The Organization
The Service Partners
Everything PR professionals need
newsfox (pressetext) is not a "normal" distribution network. The news agency describes itself as a partner and information provider for PR-professionals and consultants within companies and institutions responsible for press offices. Talk to us!


Press and
Capital Market Releases
The main job of newsfox (pressetext) is the distribution of press and capital market releases in German, worldwide. In addition, the agency offers a number of other press services that meet the highest standards of quality, e.g. photo services, video services, scheduling, editorial and translation services. We also offer digital monitoring, workshops and social media consulting.